I've just finished installing and creating the Hermès Christmas windows for the UK and Ireland and the floral arches for the London stores.
It was such a lovely project to realise and watch develop from June this year.
I took inspiration from Victorian and Edwardian Christmas cards and created something unconventionally festive with a poetic sense of play to celebrate diversity, friendship, relationships, and family. The dioramas feel nostalgic and celebrate nature and its beauty with a festive feel. A little dusting of magic capturing a tender moment which is left open to the viewer's interpretation.
The windows feel like paintings with paint splatters, brush strokes and watercolour skies.
Each window has a narrative and tells the story of the relationship between two unlikely characters and takes you on a magical adventure from the strike of midnight on Christmas eve in to dawn on Christmas morning.
Thanks again to my amazing team and Andy Knight Ltd who made it happen.
Photography by Melvyn Vincent.
The Midnight Picnic
These two enchanting characters will be captured just as the clock strikes midnight and Christmas morning has arrived. They drop everything and disappear in to the night,
off on a magical adventure celebrating the turn of day.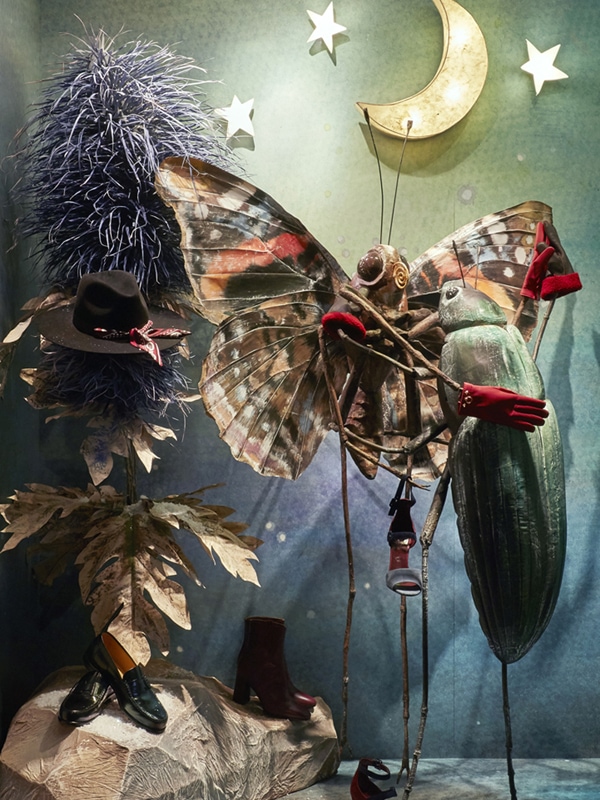 The Moonlit Dance
These unlikely friends have kicked off their shoes and dropped everything to have a special dance in the moonlight as we go deep in to the night.
Dressed to Impress
These diverse lovers are having a secret rendezvous. The lovestruck spider is capturing the brimstone butterfly's heart presenting the
impressive gifts he's collected.
Night is turning in to day, but the scene is still lit by moonlight.
The Long Journey
The fly and the snail, best friends since eternity, can finally see their destination on an icy hill in the distance, after a very long journey laden with gifts.
Morning has broken, the sun is rising and the voyage from midnight to morning has been a magical one.
Here are my original designs – watercolour, pen and ink. Such a joy to do!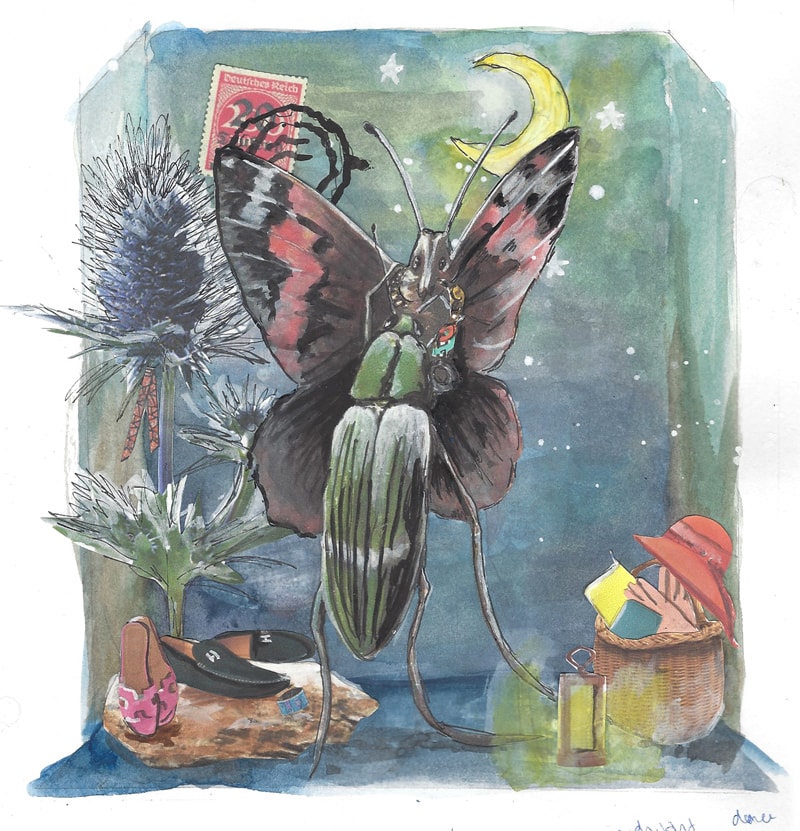 See here for more images of the finished project.